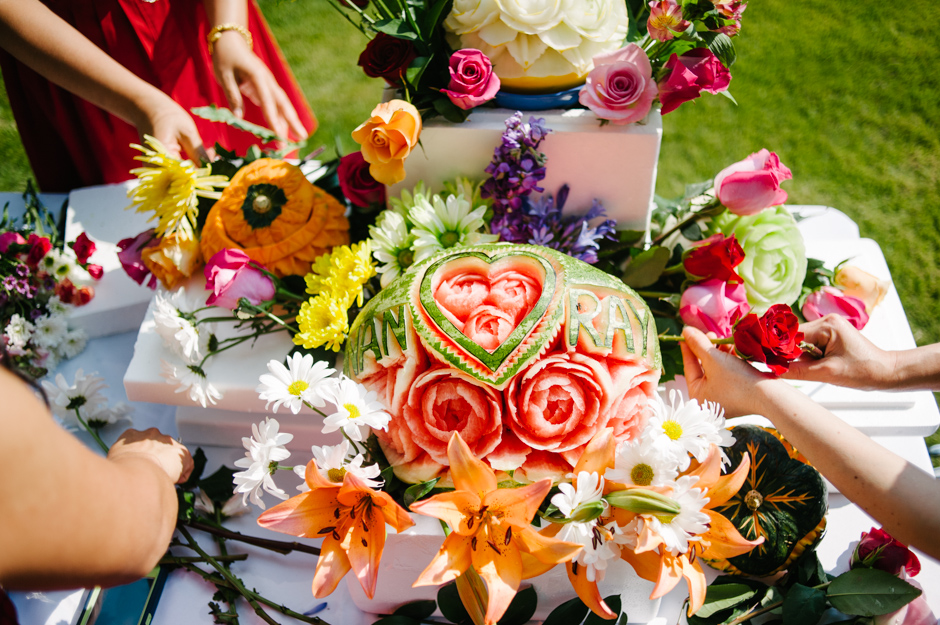 I had been looking forward to photographing Nan and Ray's wedding earlier this month for quite some time, and their day didn't disappoint.  The weather was beautiful and the setting was intimate and casual, a perfect combination that allowed me to capture beautiful storytelling moments for these two.
I sent Nan a friend request on Facebook soon after she booked me and, as usual, I went straight to the photos tab and started looking through her albums and profile pics. That's when I realized that Nan and Ray were already married in Thailand in 2013! I emailed her for more info and learned that Nan is originally from Thailand and most of her family still lives there. They had a traditional Thai ceremony where they wore the traditional wedding attire and a monk performed the ceremony. Nan wanted to make sure that they were able to embrace the Thai culture and that her family in Thailand could be a part of their special day. They also wanted to have another wedding that their family and friends in the US could be a part of, so, as Nan said, "Here we are with two weddings!"
I loved everything about this wedding and it was certainly a group effort with LOTS of family members pitching in to help bring Nan and Ray's vision to life. They were married in a backyard ceremony on Nan's family property in Rolla, Mo., followed by a dinner reception in the front yard and toasts and dancing on the deck by the pool. I think the one thing I will never forget, though, is the food. It was the best wedding meal I've ever had (yes, maybe even better than my own wedding meal!). Thai cuisine has to be one of my all-time favorites, right up there next to my grandmother's Mexican food. Grandma's food is the real deal and so was the food at this wedding. Lots of time and love went into making sure that everyone had plenty to eat.  I also loved all the DIY details and decor, especially the carved fruit and flower arrangement. Nan also had the most beautiful artificial flower bouquet I'd ever seen, but you'd never know it unless you touched it or tried to smell it. It looked SO real!
I could go on, but I'll let the photos do the rest of the talking! Congrats again to Nan and Ray on tying the knot… twice! I'm so happy you asked me to be a part of your second wedding day 🙂  Enjoy the photos!